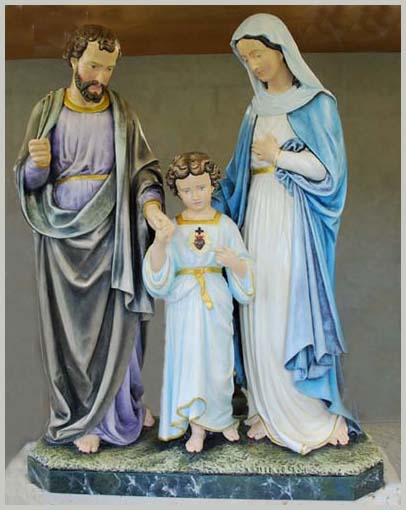 Testimonial by Fr. Peter Gallagher, P.P., Mullinabreena
"Over the past number of years James Murray has carried out work for me. He has repaired and redecorated statues in The Church of The Sacred Heart, Mullinabreena, a shrine to the Sacred Heart, which is at the entrance to the church and our Christmas Crib. All work is outstanding and finished to the highest possible standards. James is an artist as well as a craftsman. Everyone is welcome to view his work here in Mullinabreena."

Testimonial by Fr. James Finan, P.P., Keash Parish
"To whom it concerns, James Murray has done work for me over the past thirty years. Both in The Church of St. Michael, Cloonacool and The Church of St. Kevin, Keash. This work included, graining and marbling scroll work over the main altar in Cloonacool Church, also gold leaf and restoration and repainting of the church statuary. He is the only one i know who is doing this type of work today and to the highest of standards."

Testimonial by Fr. Dan O'Mahony, C.C., Cloonacool
"To whom it concerns, I have been aware of James Murray's talent/skill as a painter for many years. However, since i came to live in Cloonacool two years ago, i have seen his work at first hand. In 2010 he painted the interior of Cloonacool Church. His work has transformed the church as a place of worship. People couldn't have imagined how it would turn out so well. His decorative work is exceptional, on walls, timber, cloth/canvas and statues. A set of crib figures that was almost discarded because they were so damaged, has been restored by James to a condition better than new. It just amazes me how quickly and how slillfully he can do such intricate work. He has such a creative mind that he uses to great effect. I certainly would recommend him, without hesitation, for all types of work."